GET A NICE OVERVIEW OF YOUR TRAINS IN THE CENTRAL STAION BY UPLOADING PICTURES OF YOUR OWN LOCOMOTIVES.

Photo: 0rvik

Are you one of those who have Scandinavian locomotives installed on your Märklin Central Station 2, and that misses Norwegian, Swedish, and Danish trains in the selection of train icons? And therefor have to choose either the blank logo or standard icon with the three question marks on it? It's understandable that Märklin only wants to have their own train models represented in the locomotives icon selection. But they still have a limited number of their locomotives placed on the list, the same applies to cranes, wagons, and other digital equipment.
To me it was just a great irritation – why have the opportunity to have pictures of the locomotives on the controller, when one does not get to add the trains one have and use. At the same time, I had a wish to quickly distinguish different trains of the same type, for example I have four NSB EL18. Moreover, some of the locomotives have two decoder addresses, and it would be great to add a symbols or train numbers on the icons that says something about the decoder / device you want to select.
Therefore I searched for ages on the internet for a way to add pictures onto CS2. And finally, on a forum, I found the solution. So now I have added pictures of all my locomotives into the list of the trains and devices installed. So now I don't have to read through trains names to find the unit I'm looking for to control. Here you can see how to proceed in order to upload your own locomotive icons (or symbols if you prefer) into your Märklin Central Station 2. Read NB at the bottom first!
OPEN THE IMAGE IN THE PICTURE EDITING PROGRAM (LIKE PHOTOSHOP), REMOVE BACKGROUND, AND MAKE THE IMAGE SMALLER

Photo: 0rvik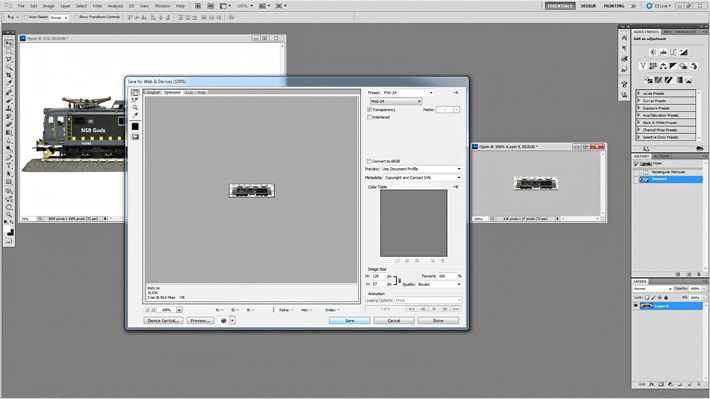 THE SIZE 128 x 38 PX IS PERFECT. SAVE THE IMAGE IN PNG FORMAT, AND REMEMBER TO CHOOSE TRANSPARENT BACKGROUND

Photo: 0rvik

MAKE A FOLDER NAMED icons (ONLY SMALL LETTERS) AND SAVE THE IMAGE WITHOUT SPACES OR SPECIAL SIGNS

Photo: 0rvik

COPY THE FOLDER icons INTO A USB STICK. IMPORTANT – ONLY IMAGE FILES IN THE FOLDER! STICK IT IN ON THE BACKSIDE OF THE CS2.

Photo: 0rvik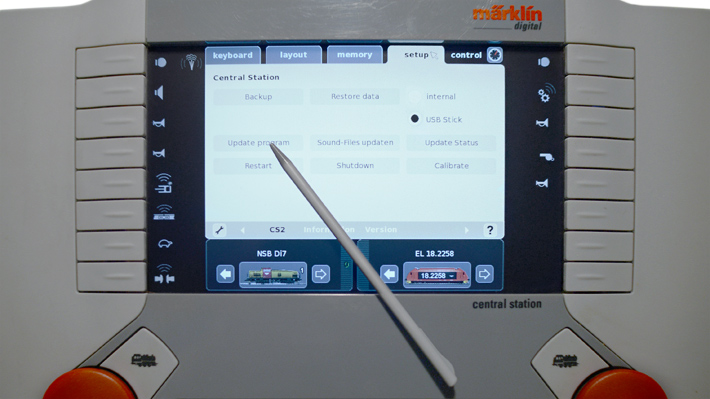 UNPLUG ANY NETWORK CABLE. GO TO "setup" AND SELECT "USB Stick". THEN CHOOSE "update program". WAIT UNTIL IT'S DONE!

Photo: 0rvik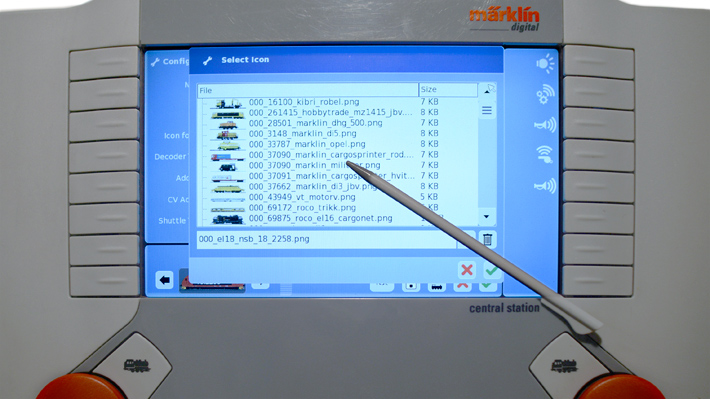 THERE WILL MOST PROBABLY BE AN ERROR MESSAGE. IT'S OKAY, THE PHOTOS ARE UPLOADED ANYWAY. ACCESS A LOK AND SELECT ICON.

Photo: 0rvik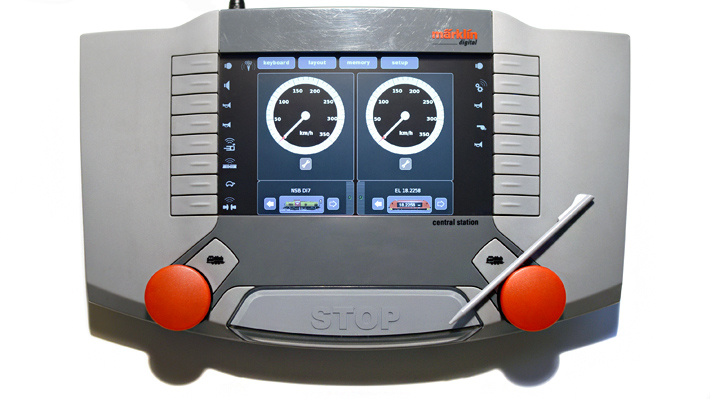 FINALLY, YOU HAVE PHOTOS OF ALL OF YOUR LOCOMOTIVES ON THE CENTRAL STATION.

Photo: 0rvik

NB
Max picture resolution 128 px x 48 px.
Use incex colors, not grayscale or CMYK.
You should have a new version of the CS2 Firmware.
Do not use the CS2, or unplugg the power during update.
Flere har lagt ut ferdige lok-ikoner:
Stayathome.ch | Lokbilder für die CS2
SimpleDigitalLocomotive | CS2 Lok-Icons
stummiforum.de | Stummis CS2-Bilder-Service
Esu.eu | The ESU Loco Icon Bazaar (register / login)
Lokomotive.de | Bildschirmschoner Galerien (black background)
ZIP-fil med over 600 bilder (european and american trains)
Send me a message if you want any of the norwegian loc icons I've made.
Post kommentar:
Write/schreiben: