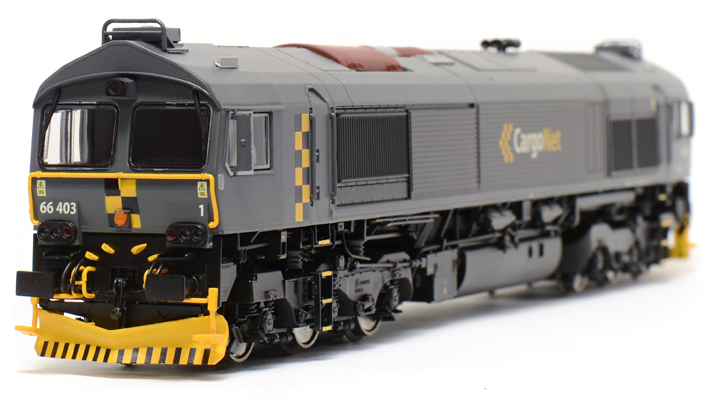 ESU'S SOLID MODEL OF THE NORWEGIAN DIESEL LOCOMOTIVE CD66 FROM THE STATE COMPANY CARGONET
Photo: 0rvik
Finally came the email from Togbutikken, that the ESU's new diesel locomotive from CargoNet, known as CD 66 in Norway, had arrived from supplier! It has been a long wait from ordering, but it was worth every day. For this is the cream of what modern model railroad, for this price, has to offer. This is a masterpiece from beginning to end, and included in the ESU Engineering Edition series. It seems that there has not been spared of any thing, neither the strength, detail, or the technical solutions!
The locomotive comes in a nice box, with pre-assembled details, latest LokSound v4.0 M4 decoder assembled. Bags of additional parts and additional tools. Simply take it out of the holder and feel the weight makes a man be filled with admiration. The details are many and beautiful. I mounted a preliminary model railway for test driving, and the connection to the Central Station was completed in no time. I will tingle throughout your body before you are finished with the test round, this will impress more than model railroading enthusiasts.
The digital decoder provides for a total of 22 functions that can be controlled by the driver, (unfortunately only 16 of those available for those with controllers from Märklin – but the main ones is on the first places). Not only are there fitted a train driver in the cab, but there is mounted lighting in both cabins and not enough with that – the dashboard has also got its own lighting! There are many audio features as well, and they come out of TWO powerful loudspeakers, mounted at each end of the train. This freight train shall be heard!
But it is when one starts to run that makes the built-in extra features that differentiate it from "the rest of the gang." Do not just make it slow sounds, which is normal for model trains today, but it makes whining noises in curves and over turnouts too! Is high speed when you brakes, so it also bright sparks from underneath the train!! They topped it off with a smoke generator, connected to a speed sensor. Smoke case (it is recommended ESU Dampf-Rauch distillates) not included, and purchased in addition.
The cargo freight train is exciting enough in itself, just look! A harsh Diesel, with a cool look. But all the features ESU Electronic Solutions has managed to put into this engine, at this price, is just stunning! This will be one of the main attractions of the future model railroad! One can understand that this locomotive was quickly sold out in Norway, and the feedback from the manufacturer is that there will not be produced additionals. So it is important to be observant if you want to acquire one.
DIGITAL WITH CURVE SENSORS, SMOKE GENERATOR AND ALOT OF LIGHT AND AUDIO FUNCTION
Photo: 0rvik