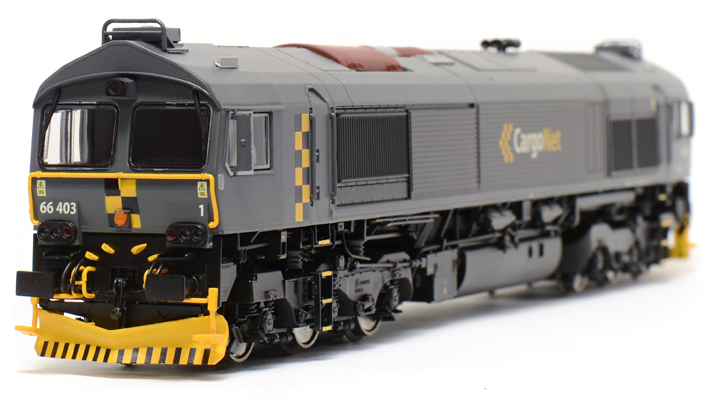 ESUS SOLIDE MODELL AV DET NORSKE DIESELLOKOMOTIVET CD66 FRA CARGONET
Foto: 0rvik
Endelig kom e-posten fra Togbutikken, om at ESUs nye diesellokomotiv fra CargoNet, kjent som CD 66 i Norge, var ankommet fra leverandør! Det har vært en lang ventetid fra bestilling, men der var verdt hver en dag. For dette er kremen av hva moderne modelljernbane, til folkelig pris, har å by på. Dette er et lite mesterverk fra ende til annen, og inngår i ESU Engineering Edition serie. Her virker det som om det ikke har blitt spart på noenting, hverken på soliditet, detaljer, eller de tekniske løsningene!
Lokomotivet kommer i en flott boks, med ferdigmonterte detaljer, nyeste LokSound v4.0 M4 dekoder ferdig montert, poser med ekstradeler, og flere verktøy. Bare det å ta det ut av holderen, og kjenne vekten gjør at en blir fylt av beundring. Detaljene er mange og nydelige. Det monteres en foreløpig togbane for testkjøring, og oppkoblingen til Central Stationen gjøres unna på null komma niks. Det skal krible i hele kroppen før man er ferdig med testrunden, for denne vil imponere flere enn modelltogentusiastene.
Digitaldekoderen sørger for hele 22 funksjoner som kan styres av føreren, (dessverre er kun 16 av de tilgjengelig for de som har kontrollenheter fra Märklin – men de viktigste ligger på de første plassene). Ikke bare er der montert en lokfører i førerhuset, men der er montert belysning i begge førerhus, og ikke nok med det – dashbordet har også fått egen belysning! Der er mange lydfunksjoner også, og de kommer ut av TO kraftige høytalere, montert i hver sin ende av toget. Dette godstoget skal høres!
Men det er når en begynner å kjøre at en merker de innebygde ekstrafunksjonene som skille det ut fra «resten av gjengen». Ikke bare lager det bremselyder, som er normalt for modelltog i dag, men det lager hvinelyder i kurver og over penser også! Er farten høy når en bremser, så kommer det også lysgnister fra undersiden av toget!!! De har toppet det hele med en røykgenerator, koblet opp mot en fartssensor. Røykvesken (det anbefales ESU Dampf-Rauch Destillat) medfølger ikke, men kjøpes utenom.
Godstoget er spennende nok i seg selv, bare utseende! Et barskt diesellok, med et tøft utseende. Men alle funksjonene som ESU Electronic Solutions har klart å dytte inn i dette lokomotivet, til denne prisen, er bare imponerende! Dette vil bli en av hovedattraksjonene på den fremtidige modelljernbanen! En kan forstå at dette lokomotivet raskt ble utsolgt i Norge, og tilbakemeldingen fra produsent er at der ikke vil bli produsert flere. Så her gjelder det å være observant om en vil skaffe seg ett.
DIGITALT, MED KURVESENSORER, RØYKGENERATOR, OG ENORMT MED LYS OG LYDFUNKSJONER
Foto: 0rvik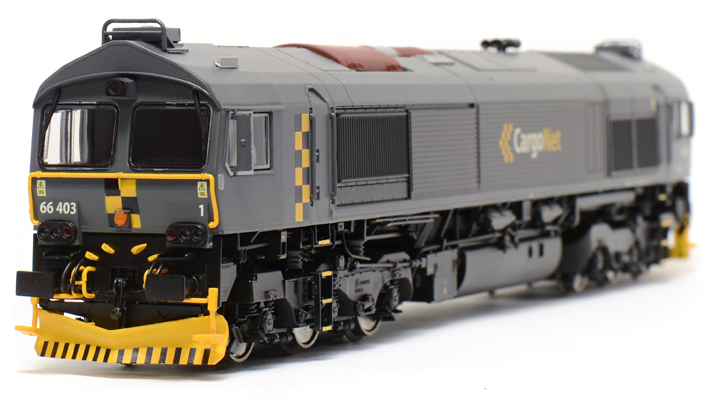 ESU'S SOLID MODEL OF THE NORWEGIAN DIESEL LOCOMOTIVE CD66 FROM THE STATE COMPANY CARGONET
Photo: 0rvik
Finally came the email from Togbutikken, that the ESU's new diesel locomotive from CargoNet, known as CD 66 in Norway, had arrived from supplier! It has been a long wait from ordering, but it was worth every day. For this is the cream of what modern model railroad, for this price, has to offer. This is a masterpiece from beginning to end, and included in the ESU Engineering Edition series. It seems that there has not been spared of any thing, neither the strength, detail, or the technical solutions!
The locomotive comes in a nice box, with pre-assembled details, latest LokSound v4.0 M4 decoder assembled. Bags of additional parts and additional tools. Simply take it out of the holder and feel the weight makes a man be filled with admiration. The details are many and beautiful. I mounted a preliminary model railway for test driving, and the connection to the Central Station was completed in no time. I will tingle throughout your body before you are finished with the test round, this will impress more than model railroading enthusiasts.
The digital decoder provides for a total of 22 functions that can be controlled by the driver, (unfortunately only 16 of those available for those with controllers from Märklin – but the main ones is on the first places). Not only are there fitted a train driver in the cab, but there is mounted lighting in both cabins and not enough with that – the dashboard has also got its own lighting! There are many audio features as well, and they come out of TWO powerful loudspeakers, mounted at each end of the train. This freight train shall be heard!
But it is when one starts to run that makes the built-in extra features that differentiate it from «the rest of the gang.» Do not just make it slow sounds, which is normal for model trains today, but it makes whining noises in curves and over turnouts too! Is high speed when you brakes, so it also bright sparks from underneath the train!! They topped it off with a smoke generator, connected to a speed sensor. Smoke case (it is recommended ESU Dampf-Rauch distillates) not included, and purchased in addition.
The cargo freight train is exciting enough in itself, just look! A harsh Diesel, with a cool look. But all the features ESU Electronic Solutions has managed to put into this engine, at this price, is just stunning! This will be one of the main attractions of the future model railroad! One can understand that this locomotive was quickly sold out in Norway, and the feedback from the manufacturer is that there will not be produced additionals. So it is important to be observant if you want to acquire one.
DIGITAL WITH CURVE SENSORS, SMOKE GENERATOR AND ALOT OF LIGHT AND AUDIO FUNCTION
Photo: 0rvik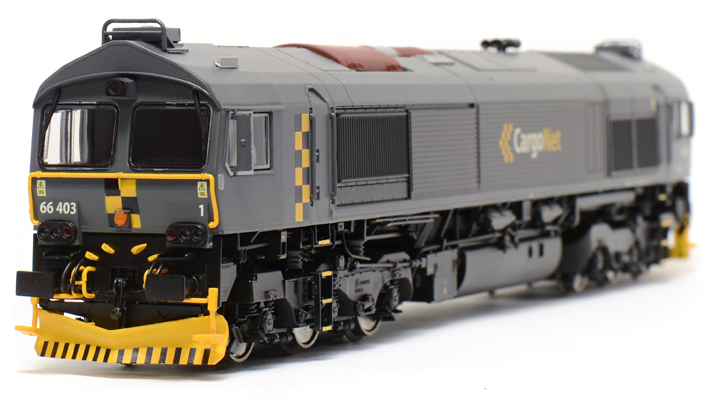 ESUS SOLIDEN MODELL DIE NORWEGISCHENDIESELLOKOMOTIVE CD66 VON STAATLICHEN CARGONET
Foto: 0rvik
Schließlich bekam die E-Mail von Togbutikken, dass die neue ESU Diesellokomotive von CargoNet, wie CD 66 in Norwegen bekannt ist, war von Lieferanten angekommen! Es war eine lange Wartezeit von der Bestellung, aber es war jeden Tag wert. Denn das ist die Creme der modernen Modelleisenbahn, einem beliebten Preis. Das ist ein Meisterwerk von Anfang bis Ende, und ist ein Teil des ESU Engineering Edition Serie. Es scheint, als wenn sie nicht einige verschont – weder die Kraft, Detail, oder die technischen Lösungen!
Die Lok kommt in einer schönen Box, mit vormontierten Details, aktuelle LokSound V4.0 M4 Decoder montiert. Taschen von Zusatzteilen und zusätzliche Werkzeuge. Nehmen Sie es einfach aus der Halterung und spüren das Gewicht verlässt man mit Bewunderung erfüllt. Die Details sind vielfältig und schön. Es montiert eine vorläufige Eisenbahnen für die Probefahrt und die Verbindung zum Hauptbahnhof in kürzester Zeit abgeschlossen werden. Es wird im ganzen Körper kribbeln, bevor Sie mit dem Test-Runde fertig sind, wird dies zu beeindrucken mehr als Modellbahn-Enthusiasten.
Der Digital-Decoder bietet für insgesamt 22 Funktionen, die vom Fahrer gesteuert werden kann, (leider nur 16 von denen, für die mit Controllern von Märklin – aber der Schlüssel ist auf die ersten Plätze). Es gibt nicht nur ausgestattet Lokführer in der Kabine, aber es wird die Beleuchtung sowohl in der Kabine montiert ist und nicht genug davon – das Dashboard hat auch seine eigene Beleuchtung! Es gibt viele Audio-Funktionen als auch, und sie aus zwei leistungsstarke Lautsprecher, die an jedem Ende des Zuges angebracht zu kommen. Dieser Güterzug ist zu hören!
Aber es ist, wenn man zu laufen, das macht die integrierten Zusatzfunktionen, die es von zu differenzieren beginnt «der Rest der Bande.» Machen Sie nicht nur es langsam Klänge, die heute normal für Modelleisenbahnen ist, aber es macht heulende Geräusche in Kurven und über Weichen auch! Ist hohe Geschwindigkeit beim Bremsen, so dass es auch helle Funken von unter dem Zug! Sie belegt ihn mit einem Rauchgenerator, mit einem Geschwindigkeitssensor verbunden. Smoke Tasche (es wird empfohlen ESU Dampf-Rauch Destillate) nicht im Lieferumfang enthalten, aber zusätzlich gekauft.
Güterzug ist spannend genug in sich selbst, nur schauen! Ein harter Diesellokomotive , mit einem kühlen Blick. Aber alle Funktionen ESU Electronic Solutions hat es geschafft, in diesen Motor zu schieben, zu diesem Preis, ist einfach atemberaubend! Dies wird eine der Hauptattraktionen der Zukunft Modelleisenbahn sein! Man kann verstehen, dass diese Lokomotive wurde schnell in Norwegen verkauft, und der Rückmeldung von der Hersteller ist, dass es nicht mehr hergestellt werden. So, hier ist es wichtig, aufmerksam zu erwerben ein a'll sein.
DIGITAL MIT KURVE SENSOREN, RAUCHGENERATOR, UND VIELE LICHT UND AUDIO-FUNKTIONEN
Foto: 0rvik